Felt is a wonderful crafting material. You can make all kinds of different things with felt. From hats to plush toys. Felt is a non-woven fabric that since it's not woven does not fray. That being said even though felt doesn't fray you still need a good pair of scissors or another cutting item to cut the felt. Because have you ever tried to cut anything from felt to fabric with a pair of old dull scissors? Using dull shears will more than not just damage the felt or fabric. So, you need to make sure to use a pair of high quality sharp scissors. And there are many different shears to choose from so you're sure to find the best scissors for you.
You can also use other tools for cutting felt, but I'll show you what you can also use later in the post. Using the right tools can save you a lot of time while making more precise cuts. And not shred the material you're cutting.
Are felt crafts hard to make? No, felt crafts can be very easy, however there are harder more intermediate or advanced patterns. Like all crafts there are easy, simple things to make, than there are harder more complex things to make. But felt crafts is the cheapest craft you can do.
To make it easier to cut the felt you can use freezer paper. You just trace the paper pattern pieces to the non-waxy side of the paper. Than iron the paper on the felt and cut out the small pieces.
* This Post may contain affiliate links.*
My free felt patterns
There are all kinds for different felt patterns out there. I love the patterns that have more intricate details. That goes for sewing and cross stitch patterns too.
The Best Scissors
Here are a couple of the best scissors to use to cut felt. There are different types of sewing scissors, so you're sure to find the right pair of scissors for you. And all these scissors should be able to cut through thicker materials or tougher materials.
Shears also come in a variety of sizes so you can find the right size for you. Because sometimes you need a long blade for longer cuts, or a smaller blade for smaller cuts. You can also get left-handed scissors even though most scissors seem to be for right-handed people.
There are also different shapes of scissors. I have a pair of scissors with a straight blade, but I like scissors that have a curved or bent handle. I actually need to buy me a new pair of fabric shears, because mine are getting dull. So, now I just need to decide which pair of the larger scissors below to buy next.
There are different scissors for different tasks. The paper scissors that are an ideal choice to cut paper flowers may not have sharp blades for cutting fabric. Because there is a big difference between the different types of scissors and whether they're cheap or not.
1. Gingher Dressmaker Shears
These fabric scissors are sharp and are perfect for all kinds of fabric and they make really clean cuts.
2. Livingo Premium Heavy Duty Tailor Scissors
These fabric scissors have stainless steel blades and have ergonomic handles for easy cutting. They're also made with high-density steel with a titanium coating that will keep a sharp edge for multiple usages. And will cut a wide variety of materials. This is the pair that's my favorite, so I think I'm going to buy these next.
3. Professional Tailor Shears
I love heavy duty dressmakers or tailor shears. These are wonderful for all types of fabric and have a bent handle design. And they have comfortable handles and will last a long time.
4. Singer Small Scissors
What I love about these smaller scissors or embroidery scissors is that they're great for the more intricate cuts and to cut tight corners. To me it's a good idea to keep a small pair of scissors next to my sewing machine to snip thread ends. They also cut felt really good and they're sometimes better than the big scissors for having easier access to those little tight spaces. I like to have various sizes of scissors around. Because you never know what size of shears you'll need to use next.
Other Cutting Tools
Below are a couple of different tools you can also use to cut felt.
1. Fiskars Comfort Grip Rotary Cutter
I love my Fiskars rotary cutter. You do have to use a cutting mat when you use a rotary cutter, but they're really good for cutting multiple layers of fabric. If you don't know what a rotary cutter and have never seen one, it's kind of like a pizza cutter. And they're to me better than traditional scissors for cutting really straight lines. Especially if you use a acrylic ruler to help you cut the material. I use mine to also cut my quilting materials, and sometimes to cut out the larger pieces of the doll dress I'm working on.
2. Olfa Rotary Cutter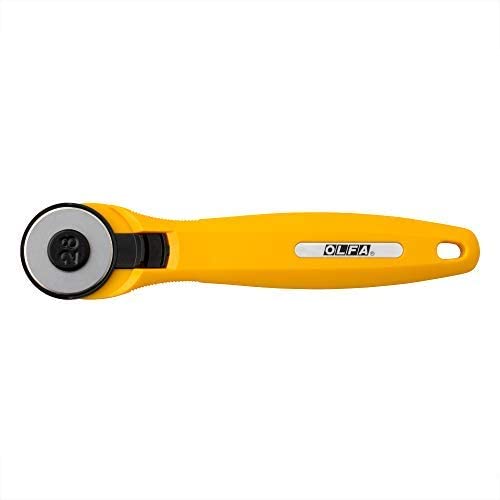 Here is another rotary cutter. I thought to give you a couple different rotary cutters to choose from. Because like scissors there are different brands and sizes. This one is a smaller blade and it is also a straight handle. Rotary cutter are great because they also help with hand fatigue. Also, using a rotary cutter you can get straight cuts in slippery fabrics.
3. Cricut
Yes, a cricut maker is on the expensive side of cutting equipment. But you can do some much more than cut felt with a cricut machine. My sister has a cricut maker and a cricut joy and I have use them a couple times. The cricut maker is the only one that can use a cricut rotary blade made for cutting out different fabrics. But, you can also use both the joy and the cricut explore to cut felt. You just have to have a SVG file of your pattern so you cut out the felt shapes. You can make also stickers, cards, vinyl decals, and so, so much more with a cricut maker.
There's the different cutting tools you can use to cut felt. And what I think are the best for cutting felt.
There are plenty of other scissors and rotary cutters out there and I didn't want to overwhelm anybody with to many options. So, I just recommended a couple pair of scissors and rotary cutter. When you go to buy a pair of scissors you just need to look at reviews and decide which one suits you the best.