I love doing felt crafts, felt crafts are one of the cheapest and easiest crafts you can do. There are many DIY projects you can do with felt, from a felt Easter egg to felt tool toys. I love to make felt plush toys, especially when I can make a new pattern while making the toys. Wouldn't a felt princess tiara with beads and sequins be cute. I don't use a sewing machine, because I like to make my felt projects by hand using embroidery thread. I've also done a few felt stockings, but those are definitely big projects. The great thing about felt projects is that they are great for beginners, especially when the project is a easy project like these Easter eggs.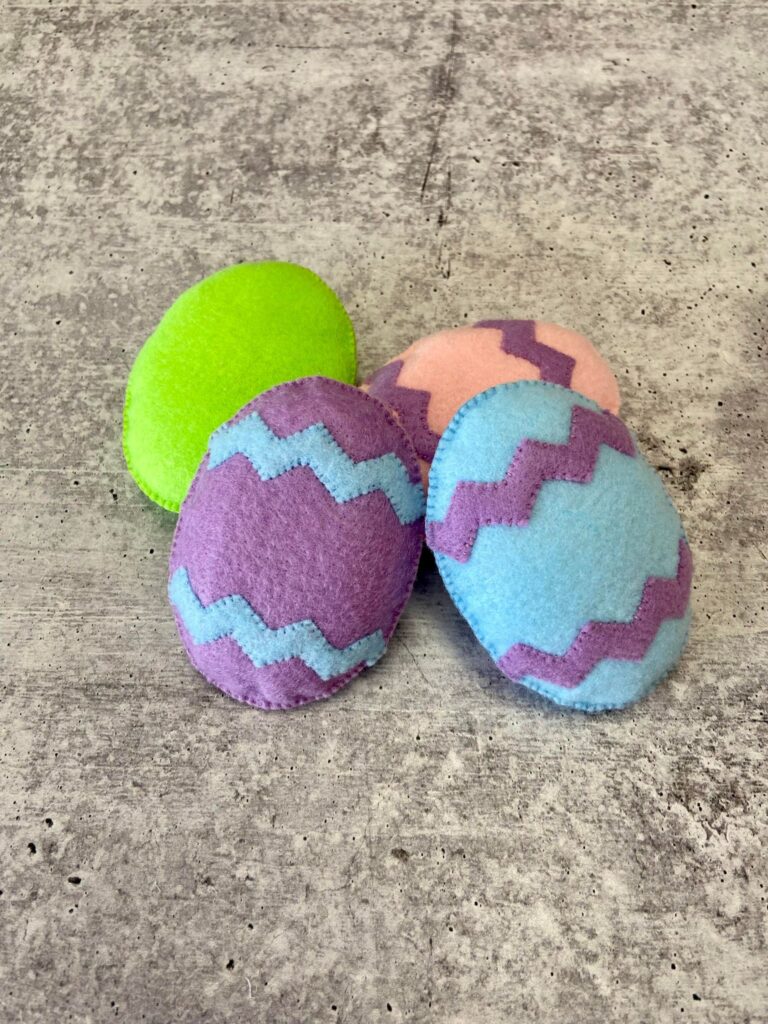 This free felt pattern is felt Easter eggs, with a free printable template. Be sure to check out my other felt patterns. You can do these Easter eggs with the zigzags or without the zigzags. I made one of the eggs without the zigzags and the rest with the zigzags. The Easter eggs would be perfect for Easter party favors, or for Easter decor. You might could even make Easter egg garland. The Easter eggs could also be used for photo props. I especially like the one that's purple with light blue zigzags. You could really make them in any color, it doesn't have to be a pastel color.
* This Post may contain affiliate links.*
What I love about felt crafts
Felt projects make the perfect hand sewing projects, like plush toys, because is non-woven so felt doesn't fray. The only con I can think of is you just have to be careful not to stretch the felt, so it will not stretch out of shape. If you don't want to sew your felt, you can use a hot glue gun and glue your felt. But, I prefer the look of a hand stitched felt project. Felt crafts are also to me one of the cheapest crafts you can do (especially if you use my free printable pattern).
Plus, with one sheet of felt you have so many options as to what you can make. From soft plush toys to embroidered bookmarks, and you can also make a variety of different felt food toys. You can also decorate your felt projects with buttons, sequins, beads or even embroidering on the felt. I've even thought of making some things for my 18 inch doll. Don't worry if you've never done any felt crafts before they're really very easy. And there are many different felt patterns out there to choose from.
Supplies
Here's a few supplies you'll need to get started. The finished egg is approx. 3 3/4″ tall and 2 3/4″ wide.
12″ by 9″ felt sheets in a couple of colors (pastels or bright colors)
Embroidery floss in coordinating colors
Embroidery needle, I use a #7 crewel embroidery needle. But, you can use another size if you prefer.
Poly fill or fiber fill
You can purchase the ad-free, downloadable, printable PDF pattern in my Etsy shop Here Thank you so much for your support!
First you will also need my Easter egg template. Just click on the link below.
Step by Step Instructions
Step 1: Cutting out two egg shapes is the first thing you do. If you are going to do the chevron on the eggs, cut two top egg zigzags and two bottom egg zigzags.
Step 2: Pin the chevron on one of the egg shapes where the template indicates. Use one top egg and one bottom egg zigzag.
Step 3: Using two stands on embroidery thread stitch the zigzags on the felt egg piece, using the whip stitch.
Step 4: Repeat steps 2 and 3 for sewing the zigzags on the other egg shaped piece.
Step 5: Pin the two felt egg shapes together.
Step 6: Using two strands of embroidery thread, starting at the bottom of the egg, start sewing using the blanket stitch.
Step7: Stitch all the way around and stop about 1 1/2″ away from where you started stitching.
Step 8: Stuff the felt egg using poly fill or fiber fill.
Step 9: Finish sewing the hole closed and tie off the thread.
And now you have a cute felt Easter egg. You can also do the egg in all kinds of different colors with different color accents. I did one of my felt eggs without the zigzags to show you what they look like without the zigzags. So if you prefer you can do a bunch of plain and decorated felt eggs.
Be sure to check out my other felt patterns
I've also got some ideas for some more felt patterns. So be sure to come back and look at my blog for some more felt project ideas. Thank you so much for your support.