Quilt borders are the fabric strips that go around the outside of the quilt top. Your border strips don't have to be plain fabric, there's different designs you could use to create the perfect border.
A quilt border can be made from a single piece of fabric or can be a pieced border like the center of your quilt. And you could always do the side borders a different fabric than the top and bottom borders.
You could be wondering why you even need a border on your quilt. Well, a border can help your quilt top to stay square and makes it easier to quilt.
But, how do you know what size border you need. A lot of quilters say that the border needs to be in proportion to the quilt. That a king quilt can have up to a 12″ or 14″ border. But, a wall hanging quilt needs to have one less than 6″.
But, to me you could do whatever size border you want. If you would like a larger border on a smaller quilt, then you should do it. To me in quilting there's really no set rule about the size of quilt blocks or borders. Just what you want your quilt to be, and make sure to add the seam allowances before you cut your fabric.
Save on your Pinterest for later Here.
Quilt Border Ideas
Now, we're going to get to what this post is about. All kinds of different quilt border ideas, you can have a simple border or a more complex border.
Sometimes quilt can even have a couple borders. They can have a smaller inner border or two and then a larger outer border. And medallion quilts look like they are made mostly from borders.
Quilt border are used to frame the quilt center. Okay, on to the quilt border patterns.
1.  Seminole Border
I love this idea for a quilt border. I love all the colors in it, it makes me think of colorful diamonds.
2. Scalloped Border
A scalloped border would be a great idea. To me wavy borders would look great for any quilt pattern.
3. Sunset Ridge
This pattern is actually a quilt design, but it would make a great border for your quilt.  The pattern looks like books to me, so I think this one would look great on a bookshelf quilt.
4.  Nine Patch Border
This is another quilt border idea.  This one is also a great scrap buster.
5. Wedges Border
Here is another great idea for a quilt border. And this one would be great for a scrappy quilt and a fun way to use your scraps.
6. Half-Square Triangles Border
You can use HST for a quilt border. With the HST you can do different designs, like zig zag, diamond, chevron and more. This post has different design you can make with your half square triangles.
7. Walking Foot Border
To have a great quilt border you don't have to do a complex piecing design. You can use a walking foot and stitch a pretty design. This post has 7 easy ideas for your straight border.
8. Diamond Border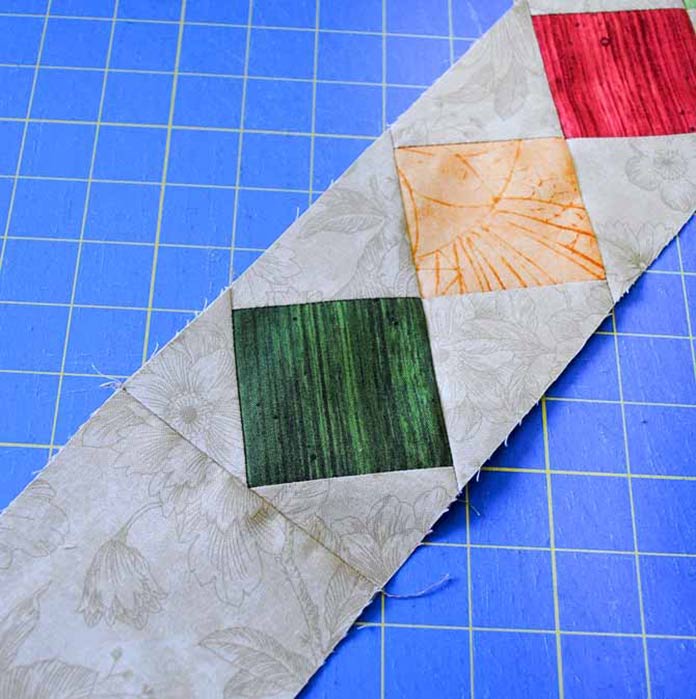 This border design is a good idea for a blanket quilt or for a table runner. A table runner is actually what she used this border for.
9. Patchwork Border
Here is another great border you can make. This one is another free tutorial and would be a wonderful border for your quilt.
10. Checkerboard Border
A checkerboard border is made out of simple squares. It kind of reminds me 9 patch quilt squares, so I think that this one would be great for a quilt's border.
11. Striped Ribbon Border
There are different ribbon borders out there. But, I like this pattern and I think that this one would be pretty for a baby quilt.
12. Prairie Braid Border
Here is colorful idea for a quilt border.   I love the fabric they used for the border.
And there are many more great designs out there for great quilt borders. You could even embroider your quilt border for a very pretty quilt. Or you could do a couple of small borders around the sides of the quilt in different colors.
Or you could even do your border in square blocks for a really simple design. I think you could do any border design you want to match the theme of your quilt.
You can find a lot of different ideas for quilt borders on Pinterest.
Quilting Questions
How do I know what size border I need? It depends on finished measurements you want your quilt to be and what the width of the quilt top is. Because border widths can very. When you cut your fabric for a quilt border, you need to add a seam allowance to the border size you want. So, if you want a 5″ border you would cut a 5 1/2″ strip of fabric.
What is free motion quilting? Free motion quilting is when you disengage the feed dogs of your machine. So, you can move the quilt around to create your favorite quilting designs.
What are right sides and wrong sides in quilting? The right side is the front or the pretty side of your quilt top or fabric. And the wrong side is the back of your fabric or quilt top.
Which quilt borders go first? Usually the sides of the quilt get borders first. Then you'll add the top and bottom borders.
Should I square up my quilt before adding borders? Squaring up a quilt can help, so your quilt top will lay flat. It will also help your border seams to look neater.
Should quilt borders be light or dark? To me there is really no right or wrong answer. Because on some quilts a dark border maybe need, or other quilts you may need a light border. It just depends on what you want your quilt to look like.
Check out my other quilting post