Tracing paper is a great tool to use for perfecting your sewing patterns. It's great for letting you create a unique pattern, or altering a existing pattern.
In this post I'll tell you some of the benefits of using tracing paper for all your sewing patterns. And I'll tell you some of the best papers you can use for tracing. So, grab a cup of coffee and let's get started.
Using tracing paper also helps you to avoid costly mistakes, like using that expensive silk on a dress that doesn't fit. Because, the original pattern you using isn't a fit you need.
Even when you alter a pattern you'll need to make a mock-up of the outfit. And you can use it to take a existing pattern and create a whole new look.
To help you trace or alter the pattern on the tracing paper. You'll need to have a curved and straight ruler to help you with those curved and straight lines, and here is my post on the three best french curved rulers.
Save this post for later on your Pinterest Here.
* This Post may contain affiliate links.*
Benefits of using tracing paper for sewing patterns
One of the best money saving benefits to me is that you can trace out the different sizes of the pattern pieces. Because sewing patterns have all the sizes around the pattern piece, so if you cut out one size you can't cut out a larger size later on. Now if you have printable PDF patterns that you can reprint if you want a different size. But if you have tissue patterns you can't do that.
And it's great for preserving your vintage patterns. Because, those patterns are out of print. So, if you make a mistake you don't have a ruined pattern that's hard to find.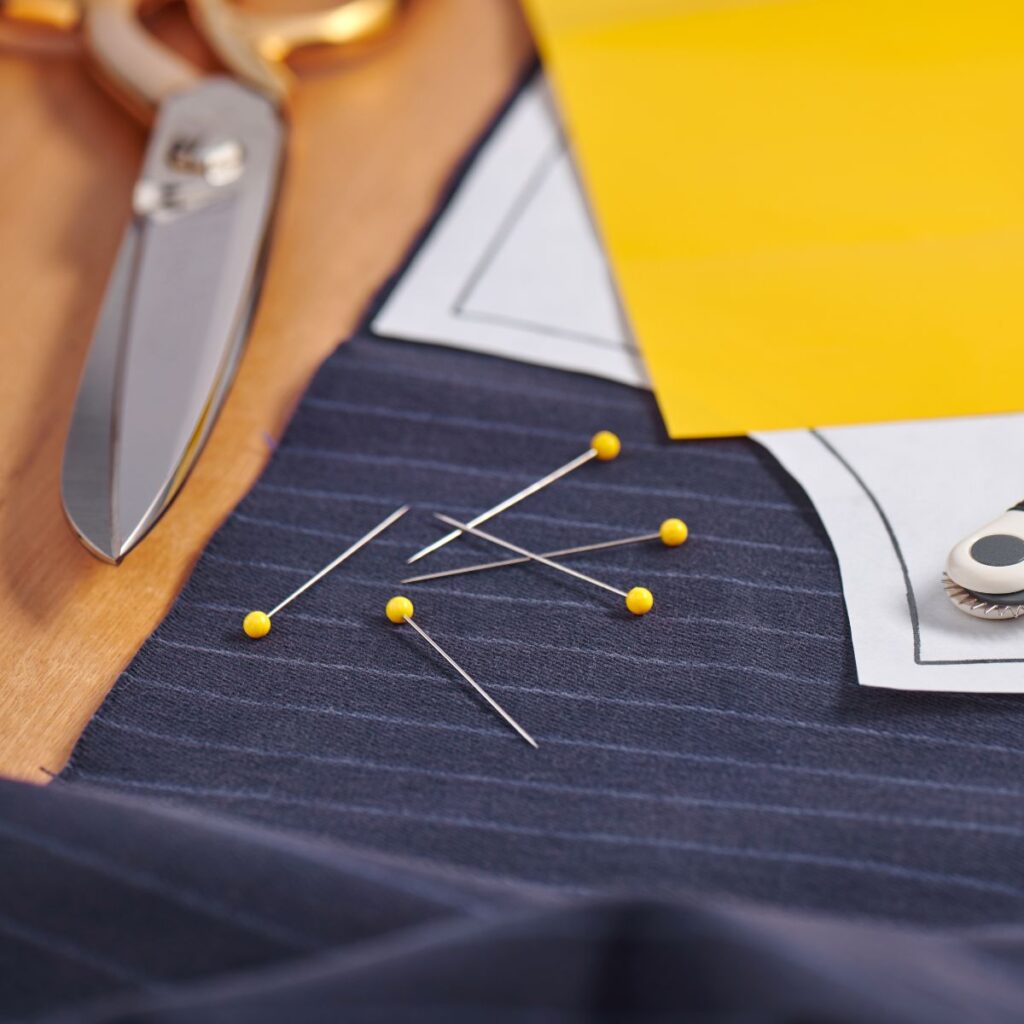 Another benefit is that you can make multiple copies of your sewing patterns.  So, you can duplicate the paper pattern easily, and make various sizes or use different fabrics.  It saves time, but also provides flexibility in case you want to make the pattern again later on.
Using it also let's you alter the tissue paper pattern. Whether you want to adjust the size, shorten or lengthen the hemline. Or, combine a couple of the sizes, to create the perfect fit of your handmade garments.
It also helps you design and create unique patterns. Pattern making is great for creating a style and fit that is perfect for you. You can start by tracing an existing pattern for a starting point. Then you can add your own personal touches or combine a couple different patterns, to create sewing project that's the perfect size and fit for you.
There are many benefits for using tracing papers for your sewing patterns. And whether you're a beginner or intermediate seamstress, tracing paper would be great to use for your new pattern.
What type of paper is the best tracing paper?
I've talked about some of the benefits of using tracing paper. But, what is tracing paper, or better yet what kind of paper can you use for tracing.
There are different types of paper you can use for tracing. I like the paper that comes in a wide roll and that has enough to last a long time.
Here below is a list of the best paper you can use for tracing sewing patterns.
And if you prefer a heavyweight tracing papers you can also use brown craft paper. I like the lightweight options of paper that you can see through to trace out the pattern sheets. Yes, they maybe less tear resistant than thicker paper, but I prefer the transparency of the lightweight paper for easy tracing.
Some of the papers above come in a 10-yard roll or longer and come in various widths. And all of these would be great to have in your sewing room.
One type of paper that I don't like to use for tracing is regular printer paper. Besides being too small, you can't see through the regular paper to trace the sewing pattern underneath it.
But, you will use printer paper for printing out digital sewing patterns. Then you'll tape the printed pattern together.
And if you're really organized it's a good option to create pattern cards for your patterns so you'll know what you need. And you could use them for a digital pattern or a paper pattern.
So, with all these types of pattern paper above you are sure to find the best choice for tracing your sewing projects and help you to become a pattern maker.
Questions about tracing paper.
Can you use tracing paper for tissue fitting? Yes, in fact some of the tracing paper you can use is more durable paper than the paper patterns come in. But, you're probably wondering what tissue fitting is. It's when you pin the pattern pieces together and try it on like a outfit. So, you can check the fit of the pattern and make sure you like the style.
What do you need for tracing sewing patterns? You'll need some paper, pencils or pens, a good light and different rulers. Like I said at the beginning of this post you'll need a curved and a straight ruler. You could but, you don't have to use a tracing wheel, I prefer to use a pencil instead. Making sure to mark all the notches and button holes. But, if you do use a tracing wheel, I would use it on a cutting mat.
Can you use parchment paper to trace patterns? You probably already know the answer to that if you read what I think is the best tracing paper. Yes, you can use parchment paper to trace your patterns. Using it maybe the better option for some, because it's cheaper than the other options, so that makes it a good choice.
Is tracing paper the same as transfer paper? Even though they are often considered the same they are different. The first one is used to copy or trace your sewing pattern pieces. While transfer paper is used for transferring your embroidery designs to your cotton fabric. But, you can also use transfer paper for artwork too.
​Check out my other sewing posts