I love piecing quilts. Piecing the quilt top is my favorite part of making a quilt. Piecing a quilt is where you sew the pieces of fabric together to create the top of the quilt. It's probably safe to say that I have started more quilt tops recently, then I have recently finished quilts. Some quilters don't like to start another quilt before finishing the one they're on. But, I'm not one of those quilters, I will have a couple of quilts started at the same time.
Right now I actually have two different quilt blocks I'm working on sitting next to my sewing machine. Because sometimes I will get tired of one quilt design. So, I'll have another quilt to work on and I'll go back and forth working on the different quilts.
Quilting is a wonderful craft and I also consider it a art. Quilting has been around centuries. And I love the history and that it's been around for a very long time. Now a days making quilts is a craft and a hobby, but it used to be a necessary chore women had to do to provide blankets for their family. I've also read that girl's were expected to have so many quilt tops done before they got married. And keep in mind that sewing machines weren't really invented till the mid-1800s. Even then most women probably didn't have sewing machines until much later, if they ever even got them, I really don't know. So, that means all their quilts and their clothes were made by hand.
Okay, I've talked about piecing quilts, whether I like to have one quilt started or more at the same time.  And a little history about quilts.  But, this post is about my favorite sewing threads to use to piece a quilt.  Now, these are just suggestions, there are many more threads out there that would be a great choice.  
* This Post may contain affiliate links.*
How to choose your thread?
With all the different thread choices out there which one do you pick. Well, to me price and availability are the main things I look at. Price is important because you don't want to break the bank, but you do want a quality sewing thread. And availability is also important, because sometimes it's easier to buy my thread from my closest craft store instead of buying it online and having to wait a few days for it to get here. Because, sometimes you need the thread now and not later. And my Hobby Lobby has sales on the thread really often, so the thread is even cheaper.
I do recommend not buying cheap no-brand thread. Because it's not as strong and it has more lint on it. A good quality thread will have little lint on it. Linty thread can cause the lint to build up in your sewing machine faster which can cause your machine to break. And it is always a good idea to clean the lint out of your sewing machine on a regular bases.
Back to sewing threads, color is also important. I like to use white thread for the majority of my piecing. But, you can use whatever color of thread you prefer, and if you've looked at the thread selection at the craft store you've seen that thread comes on many different colors. If you're using darker fabric for your quilt you might need to use black or other dark colors of thread.
Cotton thread vs polyester thread
You've probably heard quilters say that you shouldn't use poly thread with cotton fabric. That you shouldn't use natural fibers with synthetic fiber. Because the polyester thread may tear the cotton fabric. But, I haven't found this to be true, I've used polyester thread for most of my quilting projects. In fact I use it for most of my sewing projects. And I have never had a problem with it tearing into the fabric.
But, every seamstress has their favorite threads whether it's cotton or polyester thread, in their favorite color choices. There is no right or wrong answer to picking the best thread for your project. It really just go down to the right thread for you.
The prefect type of thread for me is the all-purpose thread that comes in so many different colors. I also don't really worry about the thread weight, I will just usually use the most common weight of thread.
A few of the other kinds of threads out there are, silk thread, metallic thread, monofilament thread, nylon thread, wool thread, and embroidery thread. And that is just a few different types of thread. I will say machine embroidery thread is not strong enough for sewing, but it is a good choice for embroidering the top of your quilt.
Hand sewing a quilt vs machine sewing
I love to do machine piecing, but my first time making a quilt I did it all by hand. And both are a great way to make a quilt. Now, the next time I did a quilt I used my sewing machine which I found that I liked a lot better than doing it by hand.
One of the reasons I made my first quilt by hand sewing was that I had never used a sewing machine before so I just didn't think about using one.
Another thing you maybe thinking about is machine quilting. Quilting is where you stitch the quilt sandwich ( the quilt top, batting and backing) together. Like piecing the quilt you can do it by hand or machine. And you don't have to buy a longarm machine, you can use your regular home machine for free-motion quilting.
And for cutting your fabric a rotary cutter is a time saver. It also helps with getting more accurate cuts. Like all the other aspects of making a quilt it is whatever is the best choice for you.
Save this post for later on Pinterest Here.
1. Gutermann All-Purpose Thread
Here's what you've all been waiting for, my favorite 3 sewing thread to use for piecing a quilt.  The first one is Gutermann all-purpose thread.  With this one I usually buy the spool that has over 1,000 yards of thread in white.  This is a excellent choice of thread, it maybe a little bit more than other all-purpose thread brands, but it is a great thread.
I've used this thread for a while and I've never had a problem with the thread breaking or the seam allowance puckering. You can also get value packs of the all-purpose thread that has quite a few different colors. So, you can see the different colors to know what colors you like the best.
2. Sew-ology Thread
I love Hobby Lobby, so I decided to add their sewing thread in this post. This is another all purpose thread meaning it's another polyester thread. Hobby Lobby thread is also great because their thread goes on sale for 99 cents very regularly. I know that the picture of the thread above is not white, which I use for most of my piecing. But, I thought that this thread color was pretty and since I had white thread for the first thread I'd put a another color for this thread.
What I also love about buying this thread from Hobby Lobby is that I can look at all the colors in person. I can hold the thread up against the fabric I'm buying, so I can match the spools of thread to the fabric perfectly.
This is actually one of the first threads that I started using when I first learned to use a sewing machine. And I love it, I've never had a problem with this thread, and just remember there is really no wrong choice when picking out thread it's just preference.
3. Aurifil Thread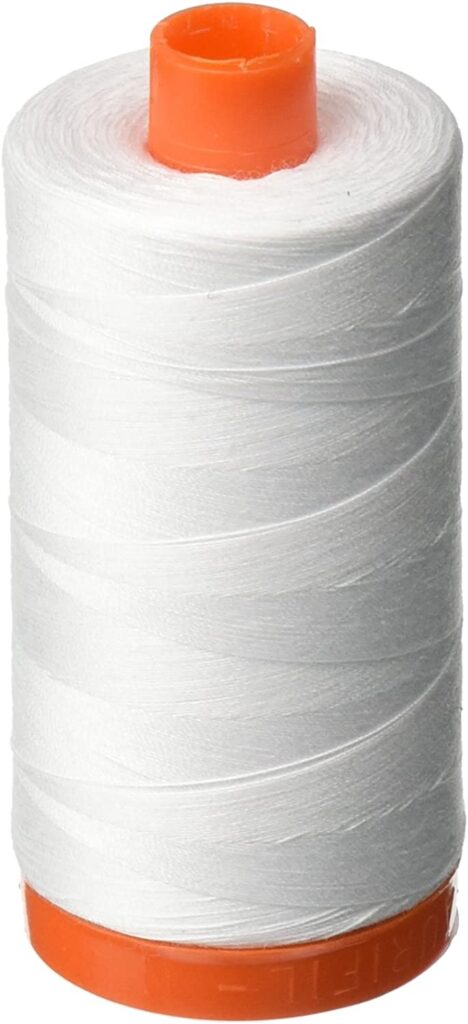 This Aurifil thread is a cotton thread.  Since I had a couple of polyester threads I thought that for the last thread I would do a cotton thread.  This is a 50 weight cotton thread, like I said I don't really worry about what the weight of the thread is.  Because I use all purpose thread which can be used for any project.  But, the 50 weight Aurifil thread is probably the best weight of Aurifil thread for piecing a quilt.
This thread is really great if you want to use a cotton thread for your piecing. Aurifil thread is a Egyptian cotton thread. And this is also one of the highest quality cotton sewing thread you can buy. And like all the other threads, Aurifil thread comes in a bunch of beautiful colors.
I hope with these different threads you're able to find the perfect thread for piecing your own quilt. Just remember that there really is no right or wrong thread when choosing thread. It all goes down to preference.
Check out my other quilting post.