First off what does the term quilting really mean? Quilting is when you stitch the quilt top, batting and quilt backing together either by hand or with a machine. When you are quilting on a sewing machine or longarm machine you can do all kinds of different stitching designs. Like feathers, swirls, bubbles or waves, and with a little bit of time even pumpkins. You could also do different designs when hand quilting. Like blossom or crosshatch, or motifs. And that's just a few there are even more quilting designs for both hand and machine.
Both hand or machine quilting is beautiful, you just have to decide what is the best choice for you. There is pros and cons to both so it's really just personal preference. Using a machine is faster, but doing it by hand adds a kind of timeless look to me. I've actually done it both ways and I love them both so I really don't have a preference.
* This Post may contain affiliate links.*
Threads
Ok, now talking about threads and the sorts of threads. If you've been looking at sewing stuff for awhile you probably have noticed all the different types of sewing thread. So, with all that that thread you're sure to find the right thread for your quilting project. Some of the best different threads are polyester and cotton thread. There are other specialty threads like silk thread, nylon thread, rayon thread, invisible thread, metallic thread and many more. There is also machine embroidery thread, but it's made just for embroidery so it's not strong enough for hand sewing or machine sewing. But, hand embroidery would be beautiful on a quilt.
And if you're hand quilting you may need thread conditioner. What this does is it make the thread go through the layers of a quilt easier and makes the thread stronger. Using this is a personal choice really, because I don't use it, a least not yet.
There is also thread that is called hand quilting thread that is already conditioned. And this is not a sewing machine quilting thread and you shouldn't use it in your sewing machine.
Also, whatever thread you use shouldn't be cheap thread. Because when I first started practicing free motion quilting, the thread kept breaking and I was using a cheap no brand thread. And after I changed the thread to a good brand of thread it started going smoother and the thread stopped breaking. A high quality thread will also have low lint, that means the lint will not build up in your machine as fast than if you use cheap thread.
I don't use heavier thread I just use a common weight of thread. The weight of thread I use is 50-weight thread. But, a heavier weight of thread is a good choice that will make your quilting stitches to be more showy.
Supplies for hand quilting
Here are a few things you may also need for hand quilting.
Embroidery hoop
Marking tool
Acrylic rulers
You don't really need a hoop for hand quilting, but you can use one. You just need to make sure you use thinner batting. The marking tools and the acrylic rulers help you to draw the design, so the design will be even.
You should be able to get all of this at your local quilt shops or craft stores. You could also use a longer needle with a larger eye if you prefer.
Save on your Pinterest for later Here.
Here are two of the best quilting threads. There are links in the pictures, so just click on the pictures.
Thread #1 Gutermann Sew-all Thread
Yes, this is a polyester thread, I know a lot of hand quilters say you don't use poly thread with cotton fabric. And that you shouldn't use synthetic fibers with natural fibers. But, this is the type of thread I use for most of my sewing. I use it to piece the quilt top and also for quilting. This is the perfect choice for any sewing project whether it's a large or small project and a very good thread.
Thread #2 Aurifil Quilting Thread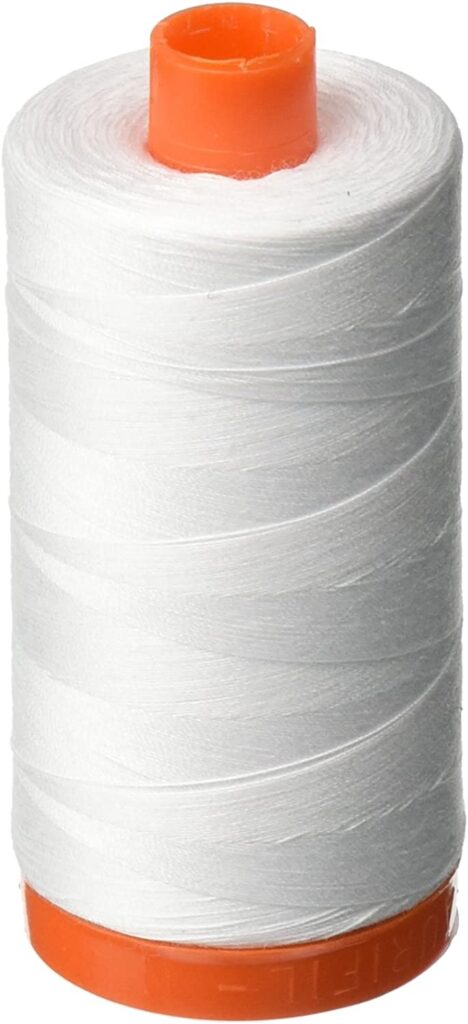 Aurifil thread uses Egyptian cotton to make it's threads. And this is an excellent choice for quilting. Cotton thread gives a quilt a more matte finish. And cotton thread is what is most recommended for piecing and quilting. Even though most of the time I use poly thread. This is one of the best Egyptian cotton threads there is, and it's a very reliable thread. The thread also comes in multi-color swirls. I think the multi-color thread would be pretty for quilting a feather design on a quilt. Some don't like to use the multi-color thread for quilting because they think that it too noticeable. But, to me quilting thread sometimes needs to be noticeable. I do like my quilting stitches to be hidden sometimes, but I also like to make the stitches pop.
And there are a lot of different quilting threads, so you're sure to find the best thread that is a great choice for you. Any of these thread choices could used for smaller projects like doll quilts or place mats.
Extras
Gutermann also has a quilting thread. And a couple more quilting thread brands are King Tut and Madeira. But, I recommended the two threads I like the best.
Another thing I like about quilts is all the different patterns. I just like to look on Pinterest and Etsy at all the different quilt patterns. With so many patterns available you can find the perfect quilt pattern to make.
Also whenever you go to make a quilt there is really no right or wrong choice. It's you choice of the colors and designs of fabrics you use. The types of thread and different weight of the thread or brand of quilting thread.
What does decorative quilting mean? That's when you use the decorative stitches on your sewing machine to quilt the fabric layers or also to use when binding your quilt. Especially with all the different colors of thread. It will make people want to take a closer look.
More quilting tutorials